December 16, 2022 — Jt Spratley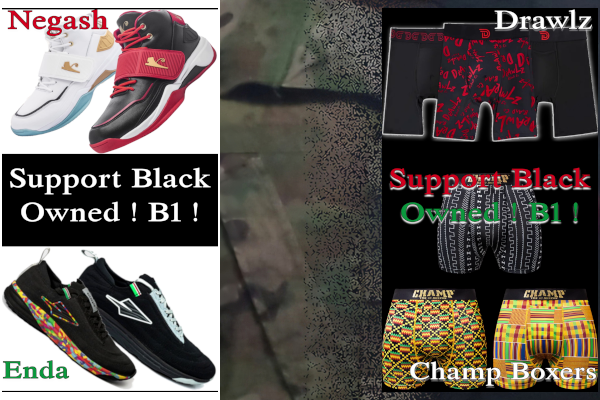 I recently wondered how I would support Black businesses if I were currently active duty Army. This list simplifies the process for Black service members who understand the Black first (B1) mindset and want to do their part.
---
Eyewear
The only brand I've found with shades likely to be acceptable in military uniform is Slim Pickins Outfitters. I'm unsure if anything from the flashy SIA Collective would be appropriate, but they do look great. Both are cheaper than I remember Oakley's being, but I can't speak for how durable they are in comparison.
Watches
Casio and Garmin watches are popular because of what they did while keeping you fifteen minutes early to formation:
GPS Navigation
Stopwatch and timer
Glow in the dark
Heart rate
Those with a thing for timepieces, or who simply want an elegant wristwatch, should check out Seventeenth watches. Their analog watches look great. Some are all black. Some also have a stopwatch feature. This is one of the few Black Veteran owned clothing companies I found last year.
Underwear
I used to buy Under Armour compression shorts and wear them inside out to hide the logo while in PT uniform. Champ Boxers and Drawlz have comfortable boxer shorts for whatever duty assigned in the mission of serving your country. Only Drawlz has an all-black option at the time of writing. I personally prefer not to wear their nylon "Expressionz" briefs for long-distance running as the elastic band can rub uncomfortably.
Socks
Motsu Socks sells various styles and designs. I design my custom socks with them to wear with my Negash basketball shoes. You could ask the company to print the design lower so that it doesn't show when wearing boots.
Running Shoes
Enda Sportswear has running shoes for trail running and minimalist fans. You can add some Luxe Brand shoelaces for extra flare.
Accessories
I have a separate post on Black-owned businesses with lotion, grooming tools, and bandages. The same applies to tactical and "tacti-cool" gear like backpacks, wallets, and other tools. Challenge coins might be available from ColoringPins.com or In The Neighborhood. They do custom lapel pins.
Learn more about the #SupportBlackBusiness movement from my post about supporting Black men-owned businesses.
Tags: military, black-community