August 10, 2023 — Jt Spratley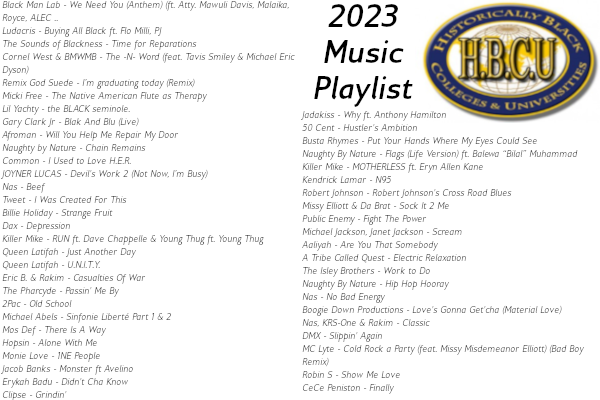 A sister said she needed a list of songs to learn before the school year starts. I recommended KRS-One and Boogie Down Productions' blog listacles on Hip-Hop pioneers to know. But after finishing my Historically Black College and University (HBCU) student address, I rethought my response. Why not make a HBCU music playlist of songs I think every HBCU student today should know?
Some art speaks for itself and should be first experienced without external interference. Below I'll add context to some tracks that deserve a solid call-to-action (CTA) or more notoriety.
---
Black Men, Brothers
The Black Man Lab - We Need You (Anthem) is important because Black men, Black boys, Black XY-chromosomal males are the primary target in this rise of White supremacy and anti-Black racism. Brothers now more than ever need communities like the Black manosphere and the personal development equivalent of Victor Green's Negro Motorist Green Book. If you want to truly understand the foundation of this claim, start with the following:
I've written a short listacle of resources for fathers to check out while you vibe to Nas - Daughters and Naughty By Nature - Flags.
Presidential Candidate Dr. Cornel West
Dr. Cornel West & Black Men Who Mean Business (BMWMB) has an album from 2007 - "Never Forget: A Journey of Revelations" featuring KRS-One, Outkast, and even Prince. Earlier this year, he did a World/EDM collaboration with singer Brandon Lucas. Dr. West only offers insightful spoken word, but its interesting nonetheless.
Reparations for Native Black Americans
Sounds of Blackness - Time for Reparations. The title speaks for itself. For those who want to better understand the topic, I've talked the arguments people use against reparations for Blacks. I also have a listacle of resources to help you research your family tree.
Support Black-Owned Businesses
Ludacris - Buying All Black. I'm all about supporting Black-owned businesses whenever possible. Black-owned companies produced my survivalist gear, HBCU apparel, and even basketball shoes.
I've fully explained in detail why I support Black-owned businesses and why I think it is important to do.
Indian / Indigenous Roots
There were people living on what we now call the United States of America (USA) before Europeans colonized the land. Just like some Black Americans may have roots in Africa or Canada, some may have ancestry linking back to Black Seminoles. Even if not, Micki Free's "Native American Flute as Therapy" and Lil Yachty's "the BLACK Seminole" are great for diversifying a music collection.
Congratulations, HBCU Students
The original claim behind the video used in "I'm graduating today (Remix)" was that the white older woman snatched the microphone from the black woman and didn't allow her and other Black graduates to finish telling their name, degree program, and other comments. Unfortunately, a new video from the same event shows that she at least partially lied about this. I can't clearly see her in the newer video, but people were not saying more than their name.
Enjoy my HBCU Playlist 2023 (Hip-Hop's 50th Anniversary):
I've also created a short playlist of Black history videos: