August 06, 2023 — Jt Spratley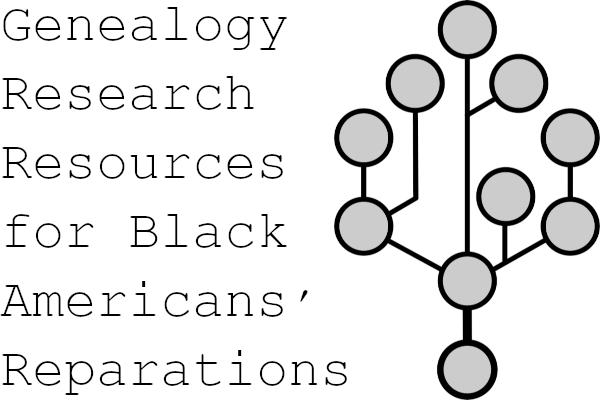 Black folks serious about reparations need to ensure your family tree is squared away, traced at least back to slavery. Below are some (mostly free) online databases for researching ancestors.
---
U.S. National Archives and Records Administration
Catalog.Archives.gov has a lot of free data - census records, war documents, newspaper snippets, and more - for free. I recommend bookmarking this site. If you find anything related to your family tree, download it.
Citing Slavery
Citing Slavery has a database of legal disputes that referenced slaves. Again, bookmark it, and download anything you find related to your ancestry, download it.
@JustinLSimard found that 18% of all published legal cases in the U.S. are two steps from a slave case. The Citing Slavery Project provides a database and map of slave cases, and the cases that continue citing them as precedent.

Read more here: https://t.co/TT6iwjZMvn

— The Citing Slavery Project (@CitingSlavery) June 18, 2023
Veterans Legacy Memorial (VLM)
VLM is Veterans Affairs' official search engine for veterans buried at "VA National Cemeteries; VA grant-funded tribal, state, and territory Veteran cemeteries; DoD-managed cemeteries (including Arlington National Cemetery); and two U.S. Park Service National Cemeteries." Search results include date of birth and death, place of burial, war period, military branch, and more if user-inputted by loved ones. You don't always know how many relatives served, especially in the World Wars. Bookmark and share with others.
DNA Testing
If you trust these DNA testing companies, these seem to be the most popular options:
To learn more, check out this comparison video by UsefulCharts.
Black Canadian Lineage
After the Revolutionary War, some Black refugees migrated to Nova Scotia, Canada. Their names were written in the "Book of Negroes," which Canada has been digitized for archival.
Library of Virginia
Virginia has an online database of various historical records including books, government publications, newspapers, etc. If Virginia has one, and the federal government has one, I assume that every state has one. I dare assume the same with the Caribbeans.
GRAMPS
GRAMPS is free open-source genealogy software you can use to manage family tree information offline. GRAMPS is available for Windows, macOS, Linux, and BSD. The "cloud" is great, but its much better to manage this data offline and consider storing a copy of that data online. To clarify, there are likely other options. This is just the first free open-source software (FOSS) option I've found.
Tags: black-community, military, linux, IT