June 07, 2020 — Jt Spratley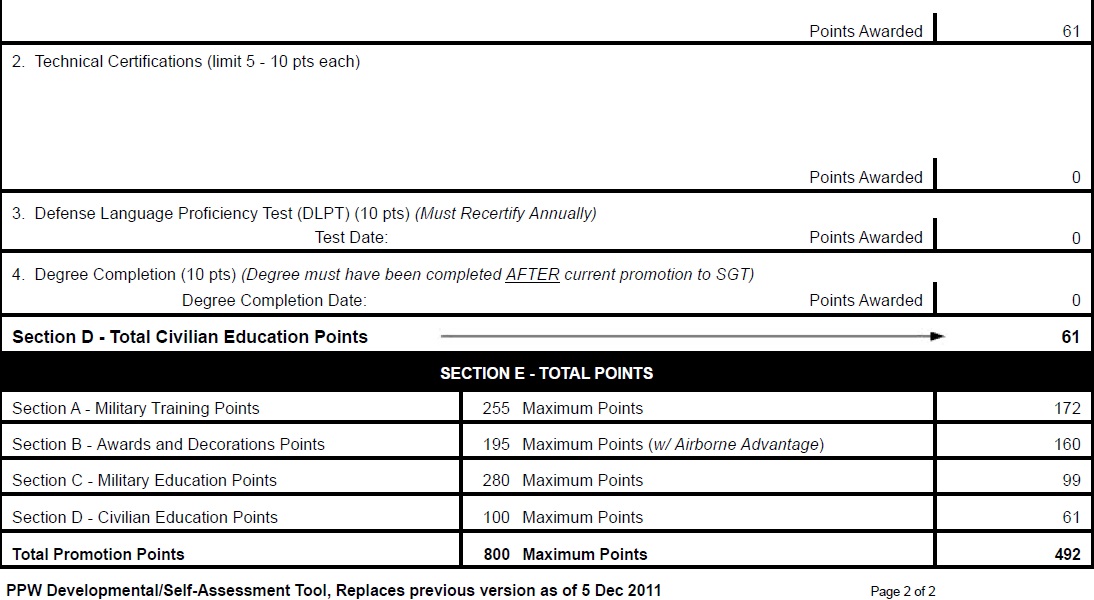 First published on April 5, 2015
Just as every Soldier should check her/his ERB regularly, Enlisted Soldiers up to the ranks of SGT should check the PPW (Promotion Point Worksheet) for accuracy.
---
I won't blab nearly as much about this as I did the ERB. I will say I've known promotable Soldiers (SPC and SGT) that had no idea what the PPW is or how to access it. By the way, the DA form 3355 no longer exists and Soldier of the whatever achievements don't count for points.
Section A is pretty straight-forward. SPC(P) can earn up to 340 points (160 MAX for APFT and Weapons Qual and 30 MAX for deployments) in this section. SGT(P) can earn up to 255 points (100 MAX for APFT and Qual and 60 for deployments)in this section.
Section B is even simpler. I'll just add that though you can add more than four COAs, only four will count for promotion points. Also, your Airborne badge (basic, senior, master) will determine your Airborne Advantage points – 20, 25, or 30 respectively.
Section C is where a lot of points can be easily acquired if understood. Juniors, complete SSD I in ALMS ASAP. That way, your Leaders will see it, maybe in Army Career Tracker, and be more likely to send you to WLC. Sergeants, complete SSDII/ALC CC for the same reason towards ALC. When you're sent to WLC/ALC, work to exceed the standard. Those NCOES awards reward more points and stand out on a DA 1059. The moment you become an NCO, SSDII should be a priority. E-mail usarmy.knox.hrc.mbx.epmd-ncoes-ssd@mail.mil regarding enrollment. E-mail your branch manager, preferably with a PDF of your ERB so they have a snapshot of your career readily accessible, encrypt the e-mail, and ask if anything else can be done to move you up on the queue. Don't simply rely on the Chain of Command for this. You're not jumping the chain by talking with your branch manager. It's your career.
Residential Training was a sore spot for me as a NCO. I was aggravated to see this section naked. Every Soldier should have attended Combat Lifesaver AT LEAST annually . . . alright, bi-annually. What? I did. But seriously, at least once. I, and many others I know, have missed cut-off by under ten points at least once. Four points can make a difference, I assure you. By the way, Driver's Training is not worth promotion points. Master Driver is, though.
Computer-based training – up to 84 points for SSG board and 78 points for SGT board. Skillport, JKO, ALMS, ATRRS. Yes, ATRRS. If there is a number in the "DL" column… distance learning hours. That's where the ACCP is hiding now. You can enroll in ATRRS and complete the course in ALMS. Five hours equals one point.
Section D includes college hours, technical certifications, and BLT, I mean DLPT. At the very least, submit your JST to a college you're at least considering attending and submit that OFFICIAL college transcript to S-1 to get some easy points for what you've already done. Look up COOL and check out some tech certs applicable to your field. If you know a language, do a proficiency test and get it resonated on your PPW and ERB – maybe even some extra pay later on.
PPW (Promotion Point Worksheet)
Official Memo covering the new Promotion Point System and Worksheet
NCO Support – Snapshot of the differences between the previous DA 3355 and the current SGT and SSG PPW
EZ Army Points – More detailed breakdown of the PPW and Promotion Point System
Army Career Tracker – add your Leader/Subordinate to track her/his CBT, NCOES progress, goals, and more
usarmy.knox.hrc.mbx.epmd-ncoes-ssd@mail.mil – Inquire about SSD
HRC Branch Managers – Find your Branch Manager
Army Pubs – Read AR 350-1 for information about Residential Training
ATRRS Course Catalog – Army Training Requirements and Resources System
ALMS – Army Learning Management System also offers plenty of CBT
JKO – Joint Knowledge Online offers plenty of CBT, including Headstart Language learning courses
Skillport – CBT for everyone. IT Certs, Lean Six Sigma, Work Environment workshops, and more
JST – View your Joint Service Transcript or send an official copy to college
Admin data kills.
Tags: military