May 27, 2020 — Jt Spratley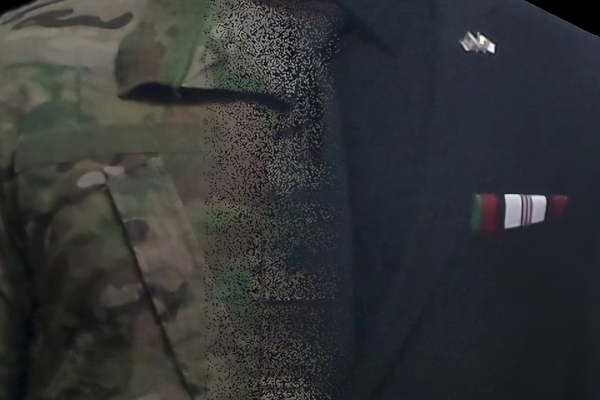 First published on February 24, 2020
My 2015 was full of surprises. I had to adapt to a lot within a short amount of time. I was at a crossroads in life. I covered most of it in my RallyPoint post 5 Years at RallyPoint, 2015 "Make It Happen" interlude, and GI Bill Story video. Therefore, I don't have much more to say here.
Hear My GI Bill Story, 2015, then Make It Happen in 1 video.
---
Album art created with GIMP, kdenlive, and the Afghanistan Campaign Medal pocket square from Pocket Square Heroes.

Read more about unique ways to show military pride.
The idea for Make It Happen came from What Are You Made Of by Muscle Prodigy, other inspirational videos, and something else I can't right remember at the time of writing this.
GI Bill Story Transcript
When I left the military, I moved back in with my mother. I used the Post 9/11 GI Bill for online college courses with American Military University (AMU) for money. Meanwhile, I applied for jobs and brick-and-mortar colleges everywhere. I didn't care where because I had a car I could sleep in. For months, all I knew was that I'd finish my bachelors degree soon and either my resume sucked or I lacked important skills for the jobs I wanted. Then I was accepted to Syracuse University.
Using the GI Bill at a brick and mortar school allowed me to get out on my own and focus on schoolwork, my music, and most importantly, preparing for my post-military career.
Instead of juggling schoolwork with a job to pay bills, I had more time to network, seek additional training, and really focus on my transition back into civilian world.
I could take full advantage of local Veterans resources and advice from college professors, counselors, and the VA success counselor. And I can't exclude the wisdom I've gained from the RallyPoint community.
The GI Bill provided a buffer for my transition into the civilian world. I can't imagine a good reason NOT to use it for a degree or certification. If it runs out, you can use Chapter 33 Voc Rehab to finish the program. Vets looking to get into STEM careers should check out the upcoming Forever GI Bill.
I understand the complaints with some VA facilities. But we have to do our part: write reviews about visits, share VA resources and experiences with others, share non-VA resources, and focus on improving our community. Meanwhile, we need to respect that many VA representatives we speak to are doing their best with the resources available to them. When we suffer, they suffer with us.
At the VA, we're the customers. We must do what we can to improve the experience for others in the future. Regardless of your issues with the VA, don't let that stop you from using the GI Bill you earned. Use it to work toward a better you.
That's my GI Bill Story.
Lyrics
2015 (Big Change Coming) Lyrics
One Negligent action in 2014 – followed me for months so I came into the
— Year knowing that I had a big change coming – head barely above water still fighting
Damn near alone, Brain gotta bad signal – to noise ratio, Stripes not mentoring
All I got are resources, Justice Outreach – and SFL were all that grounded me
Tryna hope for the best while I plan for the – worst, can't trust those whom I stand to the
– Left so I'm Scrounging the pubs but still -missed 623 [should be 635] dash three and 200
The board said boot me because I hadn't one – Leader from my current unit on my side
Screwed up again, countdown begin – got to calibrate for that school life
Goals gotta change need specialties so – back to this music new to this Linux
-Made a little blog, made a little vlog – OJT that's my perspective
Boots in a tough box migrate to the classroom – feeling like a man in a room full of kids
Don't want four years of this – transcripts barely cut the length but I'm
Still in my rebirth tricks up my sleeve – 2016 I'ma Go Live Lively
Make It Happen
2015. The year I left the Army, moved back in with my mother, then left for college. This same year I started the Go Live Lively blog to share my military knowledge. During all that, there was this reborn motivation to focus on music with a new sense of urgency from my military experience. This voice kept saying…
"What you did is in the past. Focus on your music. No more "some day." Start now. Make long term goals, plan backwards, break them into smaller short term goals – and Go! Finish this beat. Write that story. Record these lyrics. Mix this track. Finish something!"
No more standing at the crossroads. No more planning for a best time to start, comparing options to the point of not making a decision, which is a decision – to do nothing.
This same year, I accepted there is no best time. I have to make time. And the best time is now.
Quit dwelling on what you could've, would've, should've done. Work on your goals. Then reflect on that. Starting is the hardest part.
When you feel motivated to take initiative or start on a new idea, go with it. Don't ignore it. Don't put it off for a few hours or until tomorrow.
Seize the opportunity. See where the experience takes you and learn from it. Stop making excuses. Make time. This year. This day.
Take initiative. Make it Happen!
Tags: military, music-production