May 30, 2020 — Jt Spratley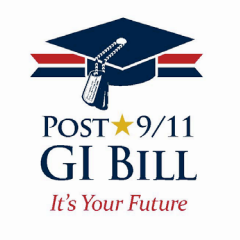 First published on January 25, 2017
There are some extreme highs and lows that come along with using the Post 9/11 GI Bill. I've written about transitioning from the military to college and finding a school before, but this is specific to the GI Bill and finances.
---
1. A stable pay check – ✓
All I know about FASFA is how to complete the application, accept the Pell Grant, and deny loans. Loans come with interest rates and have to be paid back. No thank you. With the help of a budget planner, which Mint.com and many banking websites provide for free, I'm okay knowing my budget for the month and living within those means to avoid debt. For those beneficiaries who will still need a job to supplement payment for a full-time student (12 credits a semester usually), definitely those with family members, every bit helps, right?
Apply for scholarships targeted toward Veterans via the lists from Student Veterans of America and my older blog post. Set an auto-scheduled transfer sending at least $20 of your monthly GI Bill payment to your savings account(s) and learn better ways to live within your financial means.
2. Winter/ Summer Break Pay cut – ✗
Once winter break hits, you want to relax and spend quality time with family and friends. But that next "stable" paycheck will be cut by up to a few hundred bucks, unless you take classes during the break. Why? You get paid for a full month of class. When does the semester end?
Consider taking courses during winter and summer breaks, on campus or online, to get more out of your GI Bill while chipping away at credits. Remember you need at least one on campus course during the semester, including summer, to receive full BAH. Read the VA FAQ and see for yourself with the GI Bill comparison tool.
3. Receiving Book Stipend AND Pell Grant – ✓
That extra couple hundred bucks for books at the beginning of the semester is great if you can find them used or older editions for a cheaper price. Its awesome if you don't need a book for a class or two.
Note that you're ineligible for the Pell Grant if you left the military during the fiscal year in which the school year begins – e.g. if you exit service between October 2016 and September 2017, you're ineligible for the Pell Grant come the 2017-18 school year starting in August-September.
Put that leftover money towards savings, expensive errands, that TI-84 calculator you'll only use for math class, and tools to help you in your chosen career path.
4. Paying back withdrawn courses – ✗
First, lets distinguish that drop means to cancel enrollment from a course within a set deadline where reimbursement is allowed. To withdraw means to cancel enrollment anytime after the drop deadline. If you drop a class which removes you from full-time status, or withdraw after the drop deadline, the VA may require repayment.
Make changes before the drop deadline to avoid debt. Plan courses for the next semester ahead of time and figure out the workload for each within the first few weeks of that semester. Read the syllabus thoroughly first chance you get and ask questions.
5. Wishing you'd used TA more ¯\_(ツ)_/¯
When I encounter classroom nonsense or wonder what lessons I've yet to learn from my past, I sometimes think of that one time my first line supervisor lawfully ordered PVT me to go talk with an education center counselor at Fort Bragg. I complied but I didn't drive or leave there with the mindset to seriously consider or appreciate the advantages of taking college courses while active. I regretted the time I'd wasted once I finally started years later and realized how easy the process was and how it complimented my lifestyle.
If you're active and eligible, use the Tuition Assistance. Visit your closest education center and start now. It can only help you – unless you fail a class.
What did i miss? What did I get wrong? Tweet me!
Tags: military