May 30, 2020 — Jt Spratley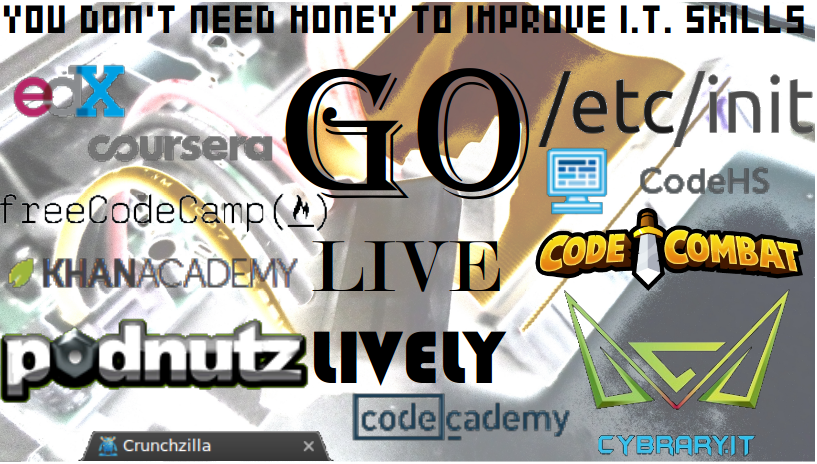 First published on May 15, 2017
I decided to do some guest blogging for an IT blog since I've already done two military-related for RallyPoint. Over the last few months I've done two for Syracuse University iSchool (school of information studies) InfoSpace blog. My first post explained 5 applications I think everyone should use. My second InfoSpace post – Evolving with Open Source Software at the iSchool – explains how I found ways to use open source software in six IT courses.
---
But I also found a way to implement open source solutions in four non-IT related courses – two music, one nutrition, and one writing.
My second WRT 307 (Advanced Studio: Professional Writing) project was to produce an in-depth tutorial using audio and visual aids teaching a specific task to a total novice. I explained how to choose a Linux distro for specific needs and try it without overwriting your current operating system in a blog post – golivelively.com/linux.
Lesson:
Repurposing – You have to relate the unknown to the known with different formats. Everyone has different preferences between documentation, audio, and video.
A NSD 225 (Nutrition in Health) assignment required buying locally grown organic food and reporting on its taste, nutrition facts, and the overall experience. I created a vlog-style video about strawberries using OpenShot video editor.
I later used Openshot again, along with GIMP, ezGIF.com, and kdenlive while trying to figure out the best way to loop GIF's, to create my HOM 482 (Roots of Global Pop) final project – a remix of a popular song.
The end results were an instant "A" and more views to my YouTube channel.
Lesson:
Branding – There are many ways to bring attention to your skills and personal brand. There's no guarantee the professors or other students viewed my other YouTube videos but I'd never know unless I tried.
My final HOM 300 DJ Stories, Cultures & Techniques project consisted of a group of three of us choosing songs to "mash" together. We created a remix including a track per person's favorites and did initial editing in Audacity before mixing in FL Studio. I forgot about QTractor. Oops!
Lesson:
Teamwork – There is always a way to contribute to a team. I had the most production and mixing experience, but the others exposed me to two great artists, Biffy Clyro and Chvrches, found an a capella, and completed the short summary while I focused on mixing.
Biffy Clyro – Medicine (Guitar)

Chvrches – Down Side of Me (Vocals and Drums)

Son Lux – Cage of Bones (Drums)

What open source software would you've used? What other IT blogs would you suggest I write for?
Tags: IT, software, music, music-production, , open-source, syracuse-university