August 14, 2022 — Jt Spratley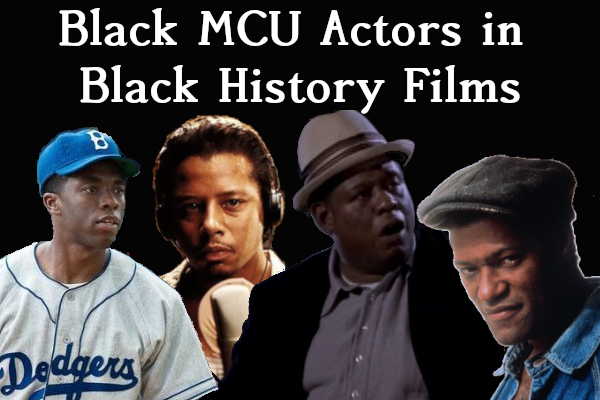 This topic came to mind after I watched an eye-opening movie about Black history. The movie centered around an actor I last saw in a Marvel movie. This made me think of other Black actors who have appeared in the Marvel cinematic universe (MCU) as well as other thought-provoking films.
The last Black culture film I wrote about was about police brutality in 2020. But there are a lot of great, older films on YouTube and other video hosting platforms for free. I'll share links when possible.
---
Forest Whitaker
Mr. Whitaker, the man who sparked this idea, plays a shaman and advisor to the Wakandan king in Black Panther (2018), Zuri. His character was killed by Michael B. Jordan's Killmonger in the movie, so he's unlikely to return.
Fifteen years earlier, he played a family man who led a militia against the KKK-run Bogalusa, LA streets during Freedom Summer (1964) in Deacons for Defense (2003). Based on a real story, his Marcus Clay character and allies are constantly facing racism at work, out and about, and even in their own home. How? That militia had firearms. The Deacons for Defense group preceded the Black Panther party which was founded in 1966.
If this movie makes you curious about gun violence and ownership, check out Colion Noir.
If you're already confident in your 2nd Amendment (2A) support, I recommend checking out the National African American Gun Association (NAAGA) and their Calibr magazine and community for Blacks.
Chadwick Boseman
RIP, Black Panther. I've said before that this movie got me interested in the MCU around the time Infinity War was getting all the hype. The movie has some valuable lessons for Black kids and the community in genera that I won't repeat here.
Before ruling Wakanda with vibranium, he was Jackie Robinson, the first Black man to play in Major League Baseball (MLB) (1947), in 42 (2013). I'll admit, I didn't know about this movie until after his death. I never cared about baseball. And I haven't seen the movie. But I do know that there are sports I only cared about because of a Black athlete. Serena Williams and Tiger Woods are easy examples.
Joe Morton
I mistakenly thought Morton was the scientist in the latest Ant-man movie. Instead, a quick search showed that he actually narrated as Ringmaster in the Marvel's Wastelanders: Hawkeye (2021) podcast series. I didn't know this existed until I started writing this. But I'm taking it to make my case here.
For over a decade, I've always thought of Morton as Assistant Secretary, and former Marine, Steven Algazi from the E-Ring (2005), a short-lived military TV sitcom. I love that series.
A few years ago, I came across The Walking Dead (1995) where he played Marine Sgt Barkley, or Preacher Man. In the 1972 Vietnam motion picture, he and a squad of other Black Marines (including Eddie Griffin's Pvt Hoover Brache). The squad's mission was to rescue a white unit. The movie does a great job of filling in the backstory for why each Black Marine joined the Corps. Each story visualizes what it was like for Blacks during that time.
Laurence Fishburne
Fishburne portrayed Dr. Bill Foster in Ant-Man and the Wasp (2018). Before 2018, I associated his face with some of the most memorable movies about Black culture. Boyz n the Hood (1991) and The Color Purple (1985) deserve a mention, but they're not my favorites from him.
Miss Evers' Boys (1997), however, shows why I don't blindly trust nurses, doctors, or medical professionals in general. In 1932, the government and Tuskegee University, an HBCU, promised 600 Black men free medical care that they wouldn't get otherwise for the duration of the clinical study. They didn't tell the 399 men with Syphilis that they had the disease, even as patients started dying. The "Tuskegee Syphilis Experiment" ran for forty (40) years while patients' wives and children became infected. That was until a whistle blower leaked the info through the press.
Fishburne character, Caleb Humphries, accelerates tension throughout the movie as he presses Alfre Woodard's Eunice Evers character, a nurse, about penicillin. He learned of the shot and that it cured the disease when he joined the Army. The infantry Sergeant's suspicion about the project clashing with the nurse's head-down support for it seems familiar to the Coronavirus (COVID-19) vaccination arguments we heard for years.
These videos show you people affected by the experiment and how our government dealt with it.
The Tuskegee Airmen (1995) is about African American men becoming notable combat pilots during World War II while enduring racism. There are a lot of powerful scenes in this movie. Random thought, military history fans might also be interested in the story of the "Six Triple Eight" postal workers. They were the only all female, black, Army battalion in Europe for World War II.
Terrance Howard
Howard played James Rhodey (War Machine) in the first Iron Man (2008), the beginning of the modern MCU. He was replaced by Don Cheadle afterwards due to conflict with the studio.
Terrance Howard will forever by Djay from Hustle & Flow (2005), the movie that's been able to motivate me to jump in the "stujo" since my teen years. This John Singleton production sheds light on creativity, innovation, and black on black crime within the rap industry. It speaks to the hustle in us, when we embrace it. Shout out to Memphis.
He was also in Red Tails (2012), another film about the Tuskegee Airmen.
One random movie that has nothing to do with the MCU but centers around a Black music producer in Atlanta: Birds of a feather (2012) by ZAYTOVEN Beatz.
I hope you enjoyed the listacle.
Tags: black-community, entertainment, movies