June 01, 2020 — Jt Spratley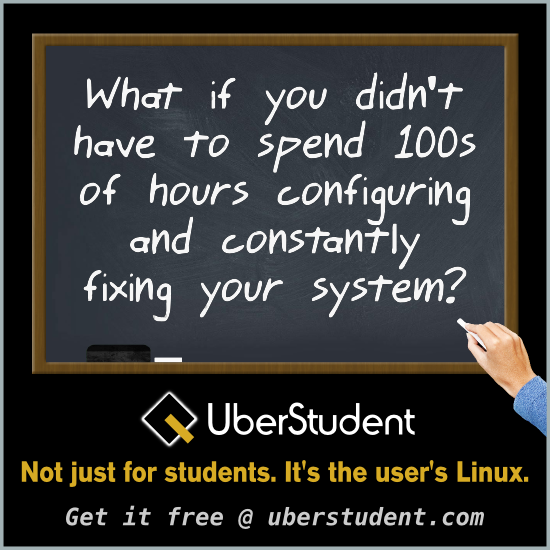 First published on January 25, 2016
Let me first admit that I haven't used Edubuntu and therefore can't compare it to Uberstudent. Now, I want to respect the above image as much as possible. Thankfully, that's easy to do because Ubuntu-based Uberstudent has so many useful apps pre-installed and quick links included in the menu. Though many senior Linux users may not care much for this, novice FLOSS users and college students will appreciate the pre-installed open-source apps and links which allow you to start doing everything the average user would need to do :
---
Linux Uberstudent is discontinued as of June 2020.
Word Processing (Libre Office)
View and Edit PDFs (Evince & Master PDF Editor)
Read e-books (FBReader)
Create advanced graphs (Plotly)
Manage finances (Mint.com)
Organize notes (mostly with Zotero)
Access study aids (Anki)
Play games that stimulate the mind (or don't)
Play music and videos (Audacious & Totem)
Use Windows programs via WINE
Organize multiple e-mail accounts via Thunderbird
There's more within the distro for those key tasks than I've mentioned. As an aspiring power user, I also installed some preferred programs:
Pinta (because I wanted something simple and didn't want to learn GIMP yet)
Conky Manager
Shutter (because screw Screenshot)
htop
Screenfetch
I didn't need anything else for basic functions. But I did enjoy playing with the included apps I'd never used before. Also, if you need support for the distro at any time, the creator and moderators within the Uberstudent forums are quick to assist. There's nothing too fancy. Uberstudent just works.
"Not just for students. It's the user's Linux." – Uberstudent
---
Update: I've been told htop and Pinta IS pre-installed on Uberstudent. If so, my mistake. I also didn't say anything about how Zotero (a research and study app) is also pre-installed and ready to use because I never tried it.
Tags: linux, open-source, education, software