May 24, 2020 — Jt Spratley
Published March 20, 2017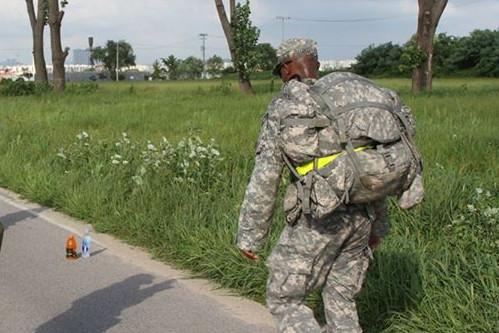 Rucking, or hiking, isn't one of those things you just do and get better at, though many may act that way. I've broken it down to five major components.
This is mainly for Service Members but much of it applies to trail hiking as well.
---
1. Feet
I used to tell Soldiers you want at least one pair of boots you could play sports in. When possible and applicable, wear those boots for rucking. Many prefer the Rocky S2V or Danner TFX. I'm not sure how that's changed since uniform and AR 670-1 changes in the last few years.
Quick note – You risk restricting blood flow to your feet if you tie your boots or tuck your pant legs too tight.
I always replaced boot insoles with a pair that gave better sweat absorption and heel and arch support. Most insoles included with boots offer minimal padding, absorb too much moisture and lose shape quickly. This rips socks and causes blisters.
Cheap cotton socks can't handle moisture and friction – they rip. That's why some wear thinner dress socks underneath them for rucking. My solution was cotton polyester socks. They breathe, fit, and feel better than two socks combined.
Lastly, there are mixed opinions on foot powder. Some argue it becomes "cake batter" and worsens performance. Gold Bond Maximum Strength Foot Powder (blue bottle) gives me a fresh tingling feeling and helps prevent blisters. Maybe this is because of everything else I do for my feet.
Moleskin and kinesiology tape are other options that can help prevent blisters. I've used KT Tape on the back of my ankles while wearing in boots and basketball shoes.
2. Rucksack
There is an art and science to packing and fitting the rucksack.
First, assemble the rucksack to fit your body. That includes everything you attach to that plastic frame – the shoulder straps, main pack, and waist band.
Pack everything in a separate waterproof bag inside the rucksack instead of packing everything in as is. If the rucksack is waterproof, you'll have another layer if it's damaged. Some like to pack the waterproof bag outside the rucksack and then force that into the rucksack. It's a clever way to get more out of the space which comes in handy when you have a large packing list but no space for more bags.
Heavy items should be packed as high and close to your back as possible. If you have to bend excessively to negate falling back, you need to check your weight distribution and setup.
The two most common complaints I've heard from Soldiers about rucking – difficulty breathing and discomfort – usually result from not wearing the rucksack correctly. The waist strap keeps the weight on the hips and off the back and shoulders for better comfort. The chest strap should prevent the shoulder straps from pulling your shoulders back and improve your center of gravity. While wearing a protective vest the chest and waist straps work together to prevent the plates from digging into your chest, lessening difficulty breathing.
3. Clothing
I recommend wearing long compression shorts to reduce inner thigh rashes. Look for ones that don't have stitching in the middle of the inner leg.
Pack extra clothing for inclement weather, boots, and hygiene stuff.
4. Nutrition
Bring food. Stash plenty of protein, granola, and Cliff bars in your ruck and somewhere you can reach without removing your rucksack. Put an ammo or grenade pouch on your shoulder or waist straps if necessary.
Fill and use your Camelbak hydration packs. Weave the tube in the shoulder strap so it's easily accessible but kept out of the way. Have a few canteens or BPA-free water bottles as well. Nalgene and Black Hawk combined both. Why? Because you never know when you'll need it.
5. Tools
Have some medical supplies on hand – tourniquets, sterile wrap, bandages, etc.. Adventure Medical Kits has plenty to choose from. Ask your local CIF if they have a huge box of spare IFAK supplies you can savage.
The one-hand opening Gerber multi-tool is the standard add-on to any uniform. Other than the Leatherman MUT EOD, I stayed away from the butterfly opening ones after my first one turned into a bootleg Swiss army butterfly knife.
Have navigation tools (GPS and map) and a way to contact others (phone, radio).
Have emergency supplies – flashlight, weapon, etc..
The RallyPoint community discussed rucking boots in 2014, rucking in 2015 and again in late 2016 after a video of a Captain struggling to finish a 12 mile ruck to attain her Expert Field Medic Badge goes viral.