June 07, 2020 — Jt Spratley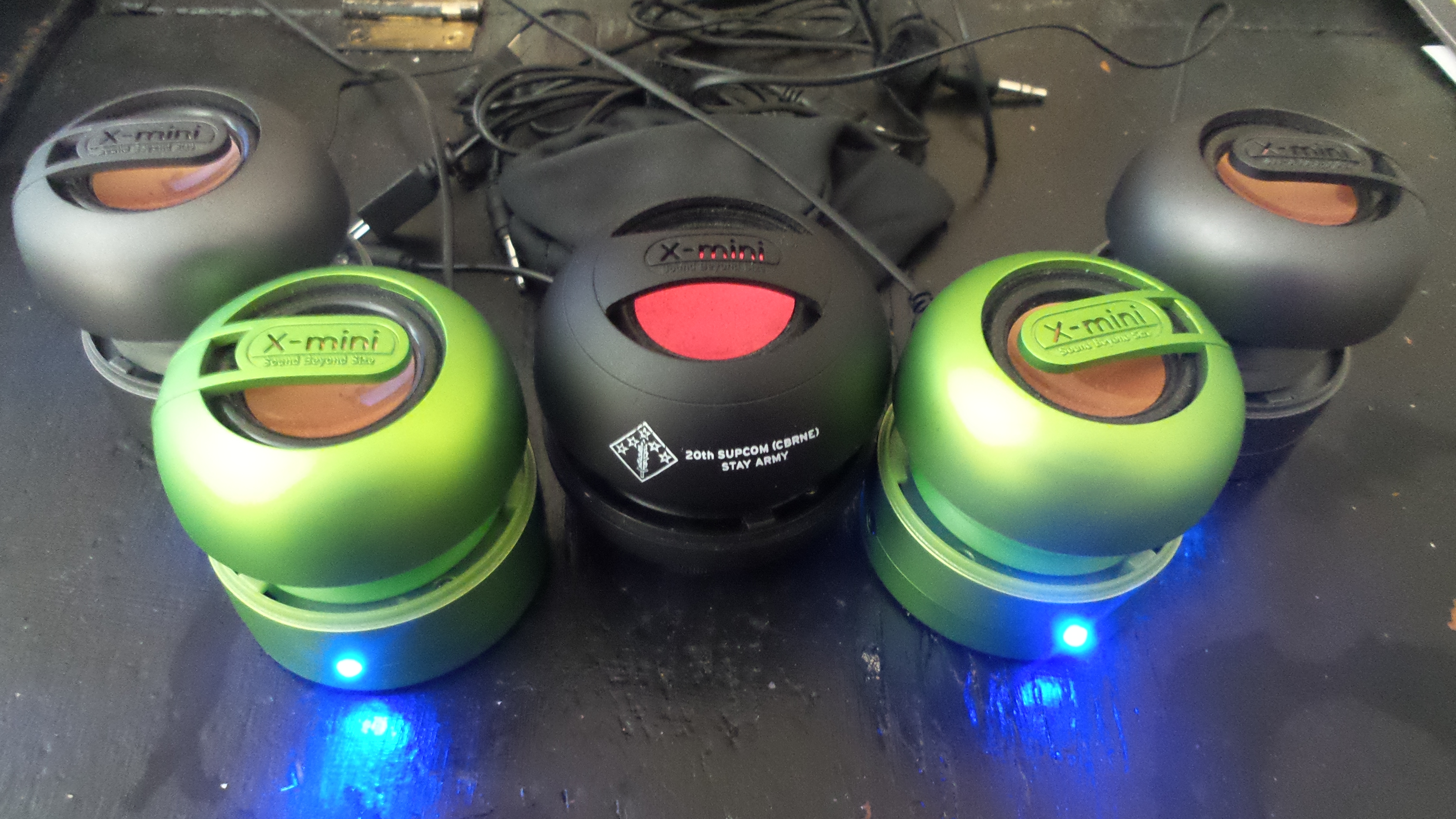 First published on May 10, 2015
In 2011, I competed in a Soldier of the Year competition hosted by 20th Support Command (CBRNE). I didn't win, but I won't rant about why I think I lost. . . okay, I lied:
---
The first event of the competition was a hybrid version of the newly proposed Army Physical Fitness Test. During the push-up test, we had one minute to do as many as possible with our hands shoulder-width apart and elbows tucked in. It was impossible for me to do those push-ups without my Lats pushing my elbows outward. The grader, a Senior NCO, stopped me after a couple reps the first time. The second chance I got, he counted 10 out of at least 30. If you fail an event in a Best Warrior competition, you lose, unless there's equal suckage across the board. Then the winner is whoever sucked the least.
Moving on. Though I didn't win, I did receive some nice gifts to soothe my butt-hurt. Among those gifts was the specially marked X-Mini Capsule Speaker pictured above in the center. First chance I got, I gave the handheld speaker a listen. I've been a fan ever since.
Since then, I've purchased the X-Mini MAX V1.1 and two pairs of X-Mini MAX Capsule Speakers.
I use the X-Mini MAX Capsule Speakers for checking my music mix-downs and daily computer use. The sparkling hi-end frequencies, quality mid-range, and audible non-distorted low freqs make them a great auxiliary reference for testing mix-downs. A single USB charge can last for days. The only time I hear unwanted noise is when charging the speakers while they're on, but it's barely audible unless the charge level of the speaker and music volume and is very low. The color options are awesome.
Last year, a speaker connector for my X-Mini MAX Capsule Speakers stopped receiving charge and audio unless I put weight on the cable near the speaker connector. I e-mailed X-Mini customer service about their warranty policy. I received a reply the next day requesting I provide my product's serial number and contact info. There was a replacement mailed to me within days. That's great customer service.
Army.mil – Read about the new APFT buzz in 2011
ArmyPRT.com – This is the correct form and example of the rower exercise
EXRX.net – "Lat's" simple and scientific explanation
Best Warrior Competition snapshot on DVidsHub.net – Me looking like I know what I'm doing on a 50 caliber range card
X-Mini Speakers
Size ain't everything.
Tags: music-production, music, military