May 27, 2020 — Jt Spratley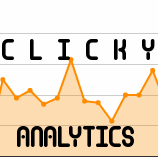 First published on September 5, 2016
While looking to switch from Google Analytics, I found Clicky from somewhere I don't remember.
Note: I'm no experienced professional in any relative field and this is NOT meant to sway your opinion of the analytics service . . . much.
---
Being able to see the user-friendly WordPress plugin on my dashboard means no extra steps to check stats. They have plugins for other platforms as well.

There's also a chart at the bottom of each individual page visible to administrators

You can't do much with analytics that only cover the span of 31 days.

Therefore,
WordPress Stats became more beneficial once my domain reached its one year anniversary. They both make it clear that my Linux deepin posts are my most popular post – no competition. Oh. . .
I'd have to pay $10 monthly, or $79.99 annually, for such "premium" features.

Set filters to remove web administrators' User ID or IP address (IP addresses can change periodically, though) or track independently to get a truer view of what's going on.

Navigating analytics with a clean user interface is possible and much less stress-inducing.

There are still many Windows XP and Vista users. Maybe they've never heard of Linux Zorin or Mint.

I had failed to avoid Google as Clicky's "Recent Visitors" map uses Google Maps.

My bounce rate is horrible. But that's a project for another day.
It would've been fun playing with Clicky's Segment.io, Contact Form 7, and mobile and desktop apps and plugins.
Did I get anything wrong? Is there something I should've tried with Clicky? Tweet me.